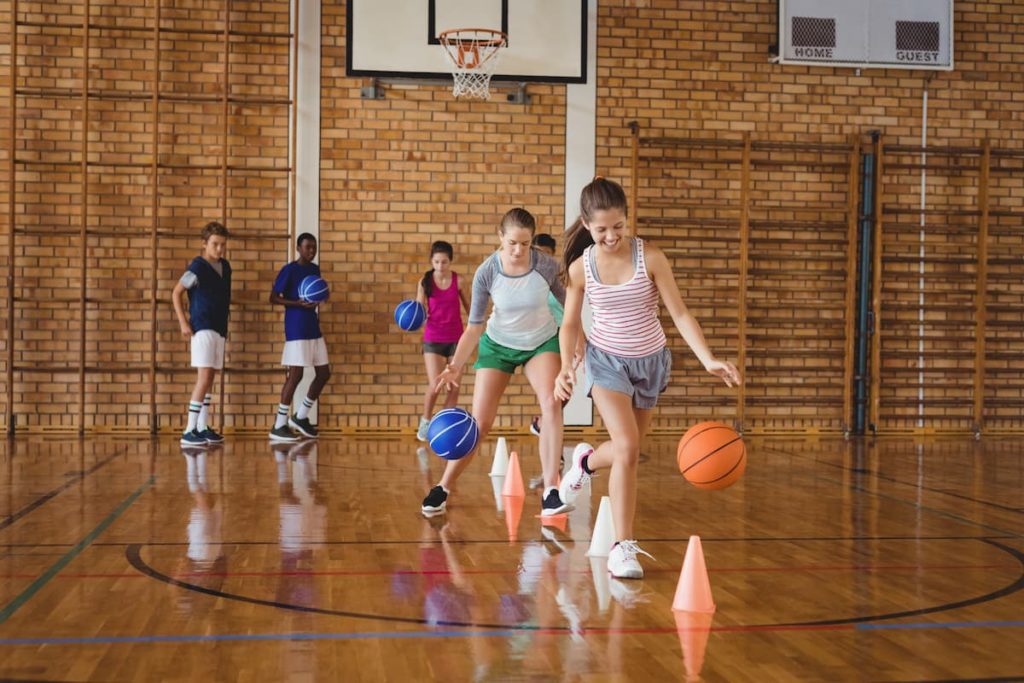 Basketball is not only an exciting, fast-paced sport to watch but a fun way for kids to get some exercise. Basketball hoops are a popular feature on most playgrounds for a reason. The sport provides a full-body workout using all the major muscle groups and helps hand-eye coordination, muscle development, and endurance. Running, jumping, dribbling, passing, and shooting the ball helps with physical development and promotes essential socialization and collaboration skills through teamwork.
Basketball Drills for Kids
Basketball drills for kids play an important role in the child's development. The drills instill the importance of hard work and commitment while also giving them an outlet for excess energy. It can also help future performance by developing muscle memory and good practice habits when done consistently and with the right form. Basketball drills for kids help them become better players.
Basketball Drills for Beginners
There are basic fundamentals that will help young players develop strength and coordination. These skills can also translate to more advanced competitive sports in the future if they decide to pursue them. For young beginners under the age of 10, it is important to focus on fundamentals like footwork and other techniques.
Footwork Drills
Foundational basketball drills for beginners must include footwork. Learning good footwork helps defensive players take a firm stance in front of the other player, block the ball, or move into new positions quickly. Precise and agile footwork is one of the key traits that define many of NBA basketball's greatest. Footwork is critical for young players to learn as they are still developing balance and coordination, so 15-20 minutes of each practice should focus on these skills.
Passing and Dribbling Drills
Moves like passing, catching, and dribbling are all important skills. Basketball drills for kids that include these techniques help them with the fundamental moves required for the sport. Regardless of their position, whether they play forward, guard, or center, spending approximately 15 minutes each practice will help them learn the proper way to handle a basketball.
Shooting Drills
One of the easiest and most fun of the fundamental basketball drills for beginners is shooting the ball. Kids start with this organically, so it is one area that you can use to get them excited about the game. However, proper form and technique are important, so incorporate the fundamentals before moving into different situational drills. Consider spending 15-20 minutes each practice teaching shooting skills.
Outdoor Basketball Hoops
At Backyard Fun Zone, we have many outdoor basketball hoops available, from simple ground hoops to wall-mounted hoops and entire portable basketball systems. Backboard choices include glass, polycarbonate, and premium backboards. They are the ideal blend of functionality and safety, with pro-style breakaway rims and adjustable height. Our outdoor basketball hoops are perfect for any skill level.
Basketball Hoops for Sale
We not only sell basketball hoops for residential and commercial use, but we install them, too. When investing in quality equipment, you want to know they are set up correctly to provide years of safe fun for kids. Talk to us about your needs, and we'll set up a time to install it.
Basketball Hoops for Kids from Fun Zone
Shop our site today, contact us or call 1-616-785-7383 about getting an outdoor basketball court for your residential or commercial playground, Located in Comstock Park, MI.
Image Source: wavebreakmedia / Shutterstock