Backyard Fun Zone is excited to add Prairie Built Barns to our product line!
Buy one right off our lot or have one custom-made to fit your needs.
90 Days SAC option – See us for more details.
Delivery and installation are FREE within 50 miles of our store. If your location is over 50 miles there is a $3/mile fee (one way) on 8',10', 12' wide & $5/mile for 14' & 16' wide barns the exact amount would be determined by the hauling company and paid to them at time of delivery.
With a custom build, you get to choose your barn color, trim color, and roof color (from the color chart on the catalog). You can also choose where you want windows and doors! For as little as 5% down. Custom build turnaround time is approximately  3 weeks (check with us to confirm timeframe if things get busy it could change at any time).
Prairie Built Barn Features:
6 Year Front To Back Warranty
30 Year Metal Roof
5/8″ Pressure Treated T1-11 Siding And Trim
Upgraded Flooring
2′ X 6′ Floor Joists
4′ X 6′ Ground Skids
Floor Joists Built on 16″ Centers
No Rust Galvanized Ring Shanked Nails
Wave Plates Used On All Door And Trusses
Hurricane Straps At No Extra Charge
Locks And Keys Provided
***All 12′, 14′ & 16′ wide barns measured eave to eave due to D.O.T. regulations. Other buildings are measured from exterior. ****
Call us today at 616-785-7383 or contact us online! AGAIN FREE DELIVERY, NO CREDIT CHECK, ZERO DOWN.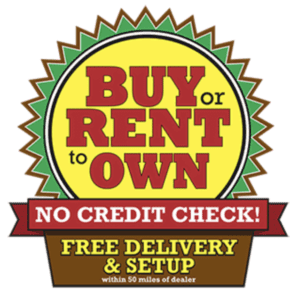 Prices are subject to change without notice.
 Barns on our lot sell so quickly we can't keep up on adding them to our site before they are gone. Contact us for current inventory or better yet stop by to see what we have! Now 2 locations to better serve you in Comstock Park, MI & Martin, MI.
Below are some that we have had at the store so you can get an idea of what you might see when you stop by.