We are excited to add Prairie Built Barns to our Product line!
Buy one right off our lot (off lot sales have been suspended due to the high demand *except for Repo Barns) or have one custom made to fit your needs.
90 Days SAC option- See us for more details.
Effective Immediately
Due to unexpected and sudden materials cost increases, Prairie Built Barns has been forced to take the unprecedented action of adding a "materials surcharge" to our published prices.
This surcharge will be added (on top of any other options or 'extras' you may purchase) to the price you may see on brochures, price sheets, inside barns, dealer websites, other social media pages, or elsewhere.
Furthermore, because of this never-before-seen volatility in the lumber/materials markets, this surcharge may change abruptly and/or often.
Please consult with us about current pricing and delivery lead times on your desired Prairie Built Barn in order to lock in your price today!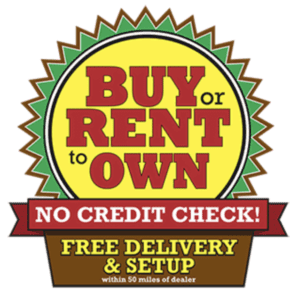 Currently on our lot!! (off Lot sales have been suspended due to the high demand but you can stop by and take a look at them!)