Adding playground equipment to your backyard is not complete without considering how to create a memorable childhood experience that is both fun and safe for your family, friends, and neighbors, and Backyard Fun Zone is here to assist parents in Comstock Park, Martin, and all of West Michigan every step of the way. We offer a wide range of backyard playsets, including the Rainbow line that is known for its exceptional quality, as well as trampolines, basketball hoops, and outdoor furniture to help you create the backyard your children and their friends will want to spend hours enjoying. We surround our playsets with rubber mulch, a higher-quality and more aesthetically pleasing alternative to options you may be more familiar with.
Rubber Nugget Mulch, made from 100% recycled rubber, is the perfect loose-fill rubber mulch groundcover for playgrounds and commercial landscaping applications. Rated as the safest groundcover on the market, also provides superior drainage and minimizes dust, keeping children clean while at play.
Provides a soft surface to help keep children safe on the playground
Warrantied against fading for up to 12 years
IMC's most affordable rubber mulch groundcover for playgrounds and paths
Maintains beauty even after years of exposure to the elements
Five times heavier than wood mulches, this rubber mulch will not float, absorb water or erode during heavy rain and flooding
Does not attract termites, carpenter ants or other harmful insects
Available in variety of colors
Call or email us today for a quote: Comstock Park 616-785-7383 * Martin 269-366-6161 or BackyardFunZone@gmail.com
Benefits of Rubber Mulch Playground Covering
Although you have several options for making your backyard playground safer, rubber mulch is a modern alternative to better-known materials that has several benefits over wood chips, rocks, sand, or traditional mulch. This type of mulch is significantly heavier and more durable than other materials, which means that it will typically avoid fading, avoid blowing away during storms, and otherwise hold up against Michigan's elements for many years. Our 12-year warranty means that many of our customers do not even have to replace their rubber mulch for the duration of the years that they have their backyard playground equipment, as its ability to resist rain, snow, wind, flooding, and other concerns often makes it last much longer than other options. 
About Rubber Mulch
Backyard Fun Zone's rubber mulch is a top choice among parents in Comstock Park, Martin, and surrounding areas based on our wide selection and the quality and longevity of our products. No matter what type of playground equipment you consider adding to your backyard, we are here to make it safer while providing an aesthetic option that keeps your yard looking its best. 
Rubber Playground Mulch Options
Our rubber mulch comes in five rich colors that can blend into the ground or be matched to the colors of your playset or other elements of the landscape of your backyard. We can also surround your rubber mulch with a border made of our signature Rubberific Timbers, which are a safe option for keeping your mulch where you want it and making it less likely to end up all over your yard. These 8-inch long segments can be arranged to perfectly fit play areas of any size and shape, and they are available in four colors and three heights.
Rubber are the best border system option for all your landscaping and playground needs. These 8' long Rubberific Timbers come in heights of 4", 6" or 8".  With the flexibility of rubber, it can form to virtually any edge desired. The top of the Rubberific Timber is rounded to provide extra safety when used around a playground.
Designed with engineered drainage ports so water does not pool in flower beds or playgrounds
Looks great with no maintenance for years to come
Great for playground and landscaping applications
Matches or compliments Rubberific Mulch or NuPlay groundcovers
Made from 100% recycled rubber
Easy to install
Made in the USA
Long-lasting and durable
Available in Earthtone, Redwood, Forest Green, and Black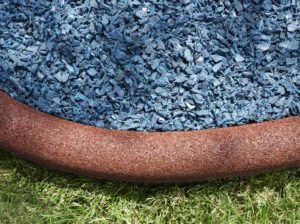 Swing Mats
No matter how much safer rubber mulch can make your children's play area, it should not be the only addition to high-traffic areas. Mulch tends to not stay under swings or at the end of slides for very long, and your thick, soft layer of mulch can quickly get kicked to the side and leave the hard ground back on the surface. Our 80-pound swing mats were designed to stay in place in these targeted areas, which increases the overall safety of your backyard playground.
Swing Mats were designed to be placed in playgrounds below swings and slides where mulch is kicked out by playful children. These heavy-duty mats stay in place, keeping children safe.
32″x54″x2″ and weight 80lbs.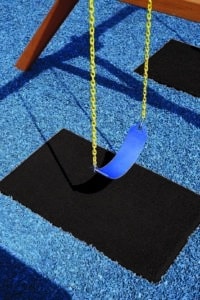 Improve Playground Safety With Rubber Mulch
At Backyard Fun Zone, our rubber mulch is the perfect finishing touch for any backyard playground. We offer everything Comstock Park, Martin, and other nearby Michigan residents need to create a backyard that is both fun and safe, and we even handle the work of putting your purchase together and making sure it is done correctly the first time. Contact us today to explore our wide selection of playset options to decide what works best for your family, then choose the rubber mulch that looks best in your yard!