Rubber Nugget Mulch, made from 100% recycled rubber, is the perfect loose-fill rubber mulch groundcover for playgrounds and commercial landscaping applications. Rated as the safest groundcover on the market, also provides superior drainage and minimizes dust, keeping children clean while at play.
Provides a soft surface to help keep children safe on the playground
Warrantied against fading for up to 12 years
IMC's most affordable rubber mulch groundcover for playgrounds and paths
Maintains beauty even after years of exposure to the elements
Five times heavier than wood mulches, this rubber mulch will not float, absorb water or erode during heavy rain and flooding
Does not attract termites, carpenter ants or other harmful insects
Available in variety of colors
Call or email us today for a quote: Comstock Park 616-785-7383 * Martin 269-366-6161 or BackyardFunZone@gmail.com
Rubber are the best border system option for all your landscaping and playground needs. These 8' long Rubberific Timbers come in heights of 4", 6" or 8".  With the flexibility of rubber, it can form to virtually any edge desired. The top of the Rubberific Timber is rounded to provide extra safety when used around a playground.
Designed with engineered drainage ports so water does not pool in flower beds or playgrounds
Looks great with no maintenance for years to come
Great for playground and landscaping applications
Matches or compliments Rubberific Mulch or NuPlay groundcovers
Made from 100% recycled rubber
Easy to install
Made in the USA
Long-lasting and durable
Available in Earthtone, Redwood, Forest Green, and Black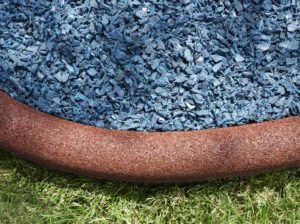 Swing Mats were designed to be placed in playgrounds below swings and slides where mulch is kicked out by playful children. These heavy-duty mats stay in place, keeping children safe.
32″x54″x2″ and weight 80lbs.