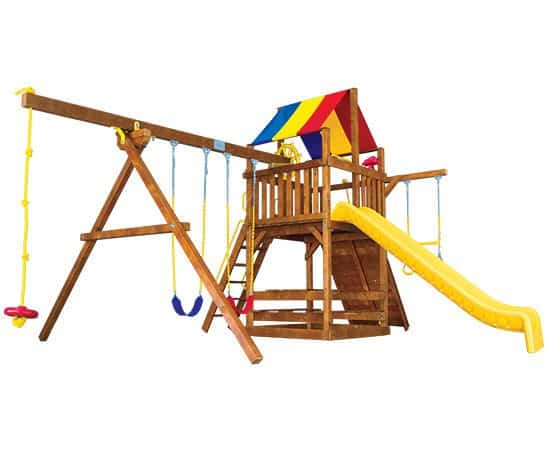 At Backyard Fun Zone, we are proud to carry Rainbow Play Systems, the most respected name in backyard playground equipment. Our Clubhouse playsets have a classic design with both upper and lower play areas and a picnic table. We offer several styles of Clubhouses that come with standard equipment. All sets are customizable, with over 100 design ideas and options. 
Circus
Our best value Circus clubhouse features 25 square feet of play space. It comes with a five-foot-tall deck, an eight-foot swing, and a ten-foot-long scoop slide. 
Sunshine
The Sunshine is our most popular clubhouse model. It is slightly larger, measuring in at 27 square feet of the play area. The deck is 5.2-foot tall, with an 8.5-foot swing, and 10-foot long playground slide.
Rainbow
The Rainbow is our flagship series. The deck has 27 square feet of the play area with a deck that stands 5.8 feet tall. There is a nine-foot swing and a 10.5-foot long scoop slide.
Monster
The most unique series of all is our Monster clubhouse. The Monster features a whopping 40 square feet of the play area. It comes with a six-foot-tall deck, a 9.25-foot swing, and an 11-foot long scoop playground slide. 
King Kong
The biggest series we offer, the King Kong clubhouse, lives up to its name. With 54 square feet of the play area and a choice of two decks, one at 7.2 feet and one at 5.6 feet, there is room for a variety of ages and abilities. The 10.5-foot tall swing and the 15-foot scoop are crowd-pleasers. 
The Trusted Source for Your Playground Equipment
When you want the highest quality playground set at a fair price point, Backyard Fun Zone has what you need. Our team has been helping customers with their backyard and commercial playgrounds for over 22 years. Contact us today for more information on our playsets or to get help customizing your own design.