So your play set is looking a little worn and it's time to spruce it up.
Now you aren't only going to stain the play set to make it look more eye appealing but to protect it from the elements. Also it is required by some companies for the warranty.
So what kind of stain should you use and not use?
We move a lot of set and rebuild a ton too so we know what kind of stain NOT to use.
Do NOT use a latex stain/paint on your set. Yes, this will provide your set with an even color throughout but you are actually causing more harm than good. When you use a latex paint/stain on your set the set ends up rotting from the inside out because the ends that you didn't seal and the areas where the lag bolt/bolts go are open to let water get in and then the water has no where to go and sits inside rotting the wood. It doesn't matter if it's a Rainbow or any other play set DON'T use this kind of stain/paint.
What should you use? we recommend a Semi transparent stain. Oil base stain will last longer and goes on easier. There are waterbase stains and that is fine too the clean up is easier but it won't last as long and it doesn't go on as easy as oil base from our experience. There are several pigment colors you can choose from.
We here at Backyard Fun Zone use Sherwin Williams Redwood Toner. It's a one coat application. With a semi transparent stain you may get unevenness this is because you can see through the stain and the wood underneath might be lighter in some area's and darker in others. This isn't a big deal but it's something we like to tell people up front so they know what to expect.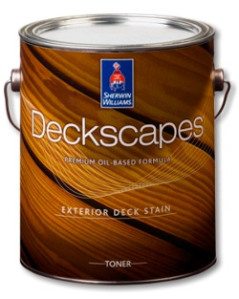 Now you know what to use but how do you prep the play set before you stain?
You can powerwash the set or you can use a deck cleaner. We powerwash the set's prior to staining but if you are doing it yourself you might not have access to a powerwasher so you can use a deck cleaner. We don't have much experience with deck cleaners so we would suggest talking to someone at Sherwin Williams, Home Depot, Lowe's or places like that. I can tell you that you don't need to go all out and get a brightener and all that jazz. Just some kind of deck cleaner that you apply to the play set then let sit then hose off. Don't let them sell you an elaborate process with a bunch of different applications. You just want to get that first layer of dirt and old stain off before you apply the new stain.
So no matter what play set you have this process works for all of them.
If you have any questions you can email us at BackyardFunZone@gmail.com or call us anytime at 616-785-7383 we are more than happy to help.