Your play set looking a bit worn and could use a facelift? Well before you run out and buy just any kind of stain read this even if you don't have a Rainbow Play set this applies to ANY wooden play set!
If you purchased a Play Set from us I may have told you that you should stain your set after the first year of having it but if it still looks good – with exception of the deck, rockwall and step ladder then you should wait another year. I think 2-3 years is the longest you should go before applying another coat of stain.
What do we recommend you use to stain your play set?
Superdeck by Duckback products is the product we have been using for 21 years now. It is a one coat application oil based stain. We have used both transparent 1905 (Heart redwood) & semi Transparent 2300 (Redwood). We like the Semi transparent it covers a bit more but still lets the grain show through. You can get it at Sherwin Williams. The Redwood is the pigment color that will match your set (if it's a Rainbow) but there are many pigment colors to choose from. Most sets I would say 1-2 gallons but maybe buy more just in case but make sure you can return any unused ones. There is a waterbase Semi Transparent as well- We have tried this and it does clean up better but it doesn't go on as easily as the oil base. Also the oil base will last longer.
Best time to stain tends to be the Fall because it's not too rainy and it's not too hot.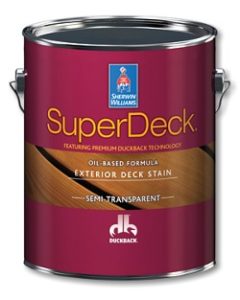 I have seen a lot of people use this big hardware store brand stain that is a water sealant Please Please Please do not use this product on your Play set! It is a water sealant but the problem is that the parts that are not stained is were the water will seep in and then the water can't get out so it ends up rotting your set from the inside out. We have taken away many sets that could have had a long life but due to this stain they ended up unusable.
Tips on staining;
You can go over the hardware while staining HOWEVER make sure you have a rag to wipe it off immediately or else if it dries it's there for life.
If you have a jacobs ladder save your paper towel & toilet paper rolls – cut them and put them over the ropes because if you get stain on the ropes it's there for life.
If you start one board finish that board before you walk away – if you start and stop on a board you will be able to tell.
It's a dirty job but it's worth it and you don't have to do it every year.
If you have any questions just ask even if you don't have a  Rainbow or you didn't buy from us I am more than happy to help make sure you get the longest life out of your play set you can.
Don't want to do it yourself? we do offer this service – we come out and power wash the set then come back and stain it. We also tighten up all the bolts. We only service Rainbow Play sets.
Other Maintenance that may need to be done
If you see that your swing hangers are loose or that your set is shifting it's most likely because the bolts need to be tightened.  Wood shrinks and expands with the weather and depending on a particular piece of wood if it will happen right away, 6 months from when you got it or never. So your first course of action should be that you tighten the bolts. Once you tighten them you shouldn't have to do it again. You will get movement in a playset that is normal but if it's too much try this first.
Contact us if you have any questions!