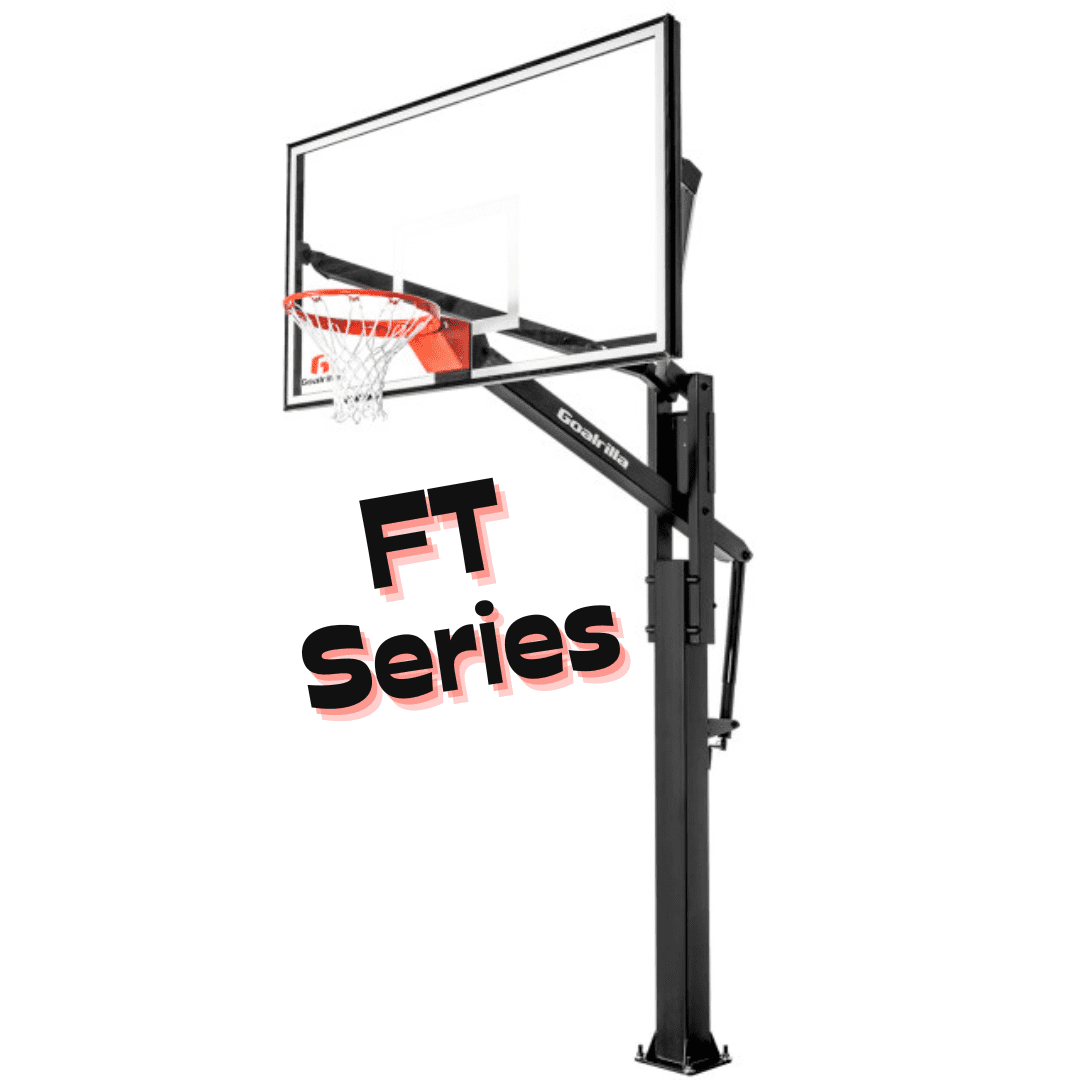 The FT series is the newest hoop in Goalrilla's line up. It features Three-Point technology which boasts a new, innovative steel pole design with ultimate strength. With its unique design that is all its own. Tough and rugged with rigidity and stability first in mind.
Description
Clearview Backboard & wide board arms for and unobstructed view during play & constant rebound from anywhere on the backboard. Steel frame that is power-coated for durability.
This goal is unique in that is have Three-Point Technology which is a post design that combines the stability of a one-piece pole, dual arm extensions and Triple Joint connection.  The steel pole provides the foundation. The Dual Extension arms come from the pole to create more stability. The arm is mounted utilizing Triple Joint Connection to creates surface area contact for better rigidity and stability during play.
Heavy Duty Breakaway Rim – 90lbs flexes the rim but its capable of handling 1000lbs of vertical torque.
Adjustable height from 7.5′ to 10′ making it suitable for all ages. Goalrilla has safety in mind when they designed it to only adjust down to 7.5′ feet. Any lower and you run the risk of injury upon lay ups.
Pole is made with 9-gauge steel and has a power-coating to provide rust and UV protection.
Anchor kit which allows you to take your investment with you should you choose to move.
FT72
Sale Price $2399.95
72″ x 42″ Backboard
1/2″ Thick Tempered Glass
6 x 6 Pole
4′ Overhang
FT60
Sale Price $2199.95
60″ x 38″ Backboard
3/8″ Thick Tempered Glass
5.5 x 5.5 Pole
3.5′ Overhang
FT54
Sale Price $1849.95
54″ x 36″ Backboard
3/8″ Thick Tempered Glass
5 x 5 Pole
3′ Overhang
Below are the items included with the FT Series Hoops