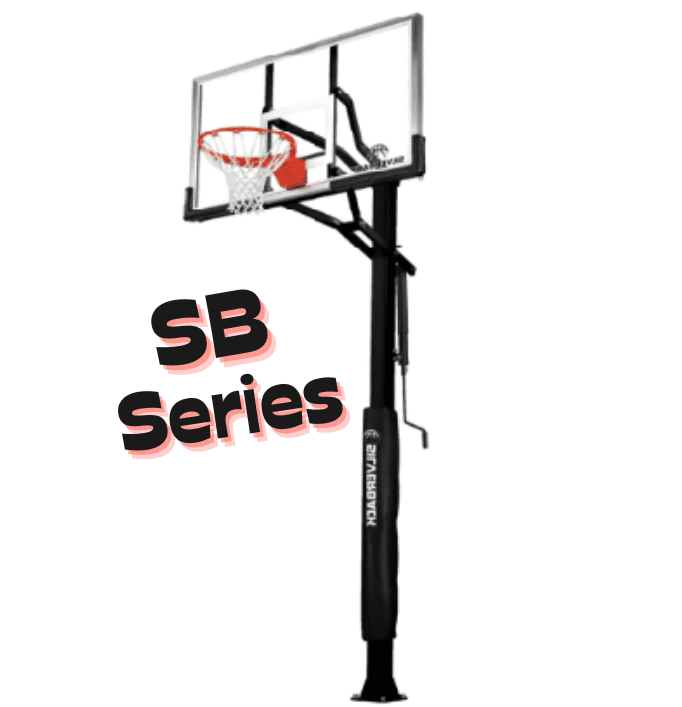 The SB Series is Goalrilla's premier economy line of basketball hoops with several option with the series to fit any families needs and budget.
Description
First up is the SB54ig – ig meaning in ground. The pole gets cemented directly into the ground. The only disadvantage is that if you ever move you cannot take the hoop with you but on the bright side it will add value to your home.
SB54 & SB60 come with a 7″ anchor system. Just like the GS Series and above however the anchor systems are different so they are not interchangeable should you choose to upgrade down the road. If you do choose to move you can take the majority of the hoop with you and get a new anchor system.
SB60 Ghost is the newest hoop in the SB series and exactly the same as the SB60 except the backboard is tinted to reduce any sun glare.
Features
Tempered glass backboard
Breakaway rim that flexes under pressure
Power-coated steel 2 part 4×4 pole (because there is a 2 part pole no slam dunking)
Adjusts form 7.5′ to 10′ using a crank actuator
SBig & SB54 Backboard pad
SB60 & SB60 Ghost Backboard pad and Pole Pad
Below are the items included with the SB Series Hoops
*Pole Pad only comes with the SB60 & SB60 Ghost.