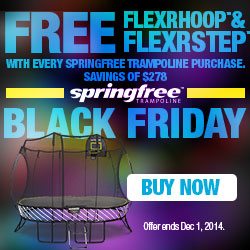 Black Friday Sale starts Now!!
Get a Free Flex Ladder, Free FlexHoop & Free Delivery with any new Trampoline Purchase now until Dec 1, 2014
Install is only $49!
If you want to get this deal now but don't want it installed or even delivered until Spring we will hold it for you. If you want it delivered now but not installed until Spring we can do that too.
Just email us for a current price sheet at BackyardFunZone@gmail.com
You can also see the 11×11 Trampoline on display at the Woodland Mall 3195 28th Street SE Grand Rapids, MI 49512 by Barnes and Noble. There are also price sheets there.
You can call us at 616-785-7383 to place your order or if you have any questions.