Popcorn Time! How To Throw A DIY Backyard Movie Night
We love grabbing a bowl of popcorn and snuggling up for a movie night with the family. And we love fun backyard activities the whole family (and neighbourhood when we are off lock down 🙂 ) can enjoy.
Put them together and you've got a fun night ahead! Take your next movie night to the next level with a DIY backyard movie party. Get all the tips and tricks from setting up your screen to the best snacks!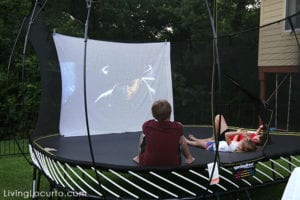 The Logistics
The backyard is the perfect place to bring friends and family together. But sitting outside in the rain isn't much fun. Look at the weather forecast to make sure you've got clear skies ahead. And make sure to have a backup plan (just in case).
Don't forget to think about when the sun sets.  It will need to be dark outside to properly enjoy the movie.  We've found just after sunset is the perfect time!
The Invites
The more the merrier! Backyard movie nights are always more fun with the neighbourhood. Get the kids to help create a guest list and send invitations. We created these super cute little invites. You can download a printable version here.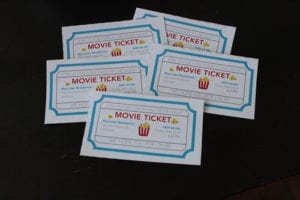 Setting Up The Screen
Although you can certainly rent a movie screen for the night, you can also turn your Springfree Trampoline into a movie screen with just a few simple materials. Or use the same technique on a wall or fence.
Check out our DIY Movie Screen tutorial to find out how!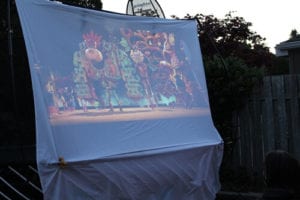 Watching In Comfort
The easiest way to add seating to your backyard movie night is by using your patio furniture. Or if you've got lots of grass in your backyard spread out pillows and blankets and let the kids lie on them to watch the movie.
You can actually host it inside your Springfree trampoline too! Pile the kids in with their blankets and pillows and enjoy the movie. For full details, check out the Living Locurto blog. Just remember, no jumping!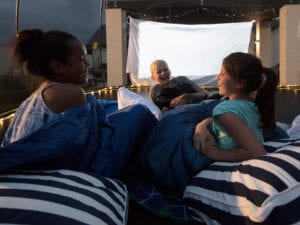 The Snacks
No movie night is complete without the perfect snacks! Check out our favourite – kid approved recipes including pizza roll ups, caramel apple nachos and a popcorn bar. Get all the recipes here!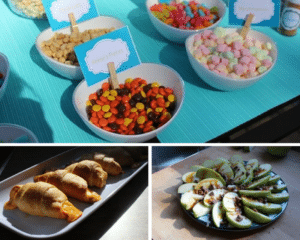 Now just choose your favourite movie, break out the snacks and let the fun begin. And don't forget to bring your favourite stuffy!