Goalrilla has introduced 2 new Hoops this year!
CV72S & CV60S
The NEW Goalrilla CV basketball goal with STBLZR Technology is redefining performance for residential hoops. Available in both 60" and 72" backboard sizes, STBLZR Technology significantly reduces the "shake" of a basketball goal after a dunk or rebound and completely stabilizes the backboard of the goal at regulation height. After a shock to the goal, some units will violently shake for up to a minute before coming to a rest. STBLZR Technology returns the hoop to its static, resting position quickly, allowing players to maximize practice time and stay focused on skill development. Utilizing the same technology used to eliminate movement in skyscrapers during earthquakes, STBLZR Technology creates a dramatic improvement in goal stability. The Goalrilla CV with STBLZR Technology simulates the performance of arena-style, pro-level goals, delivering the gym experience in your driveway.
Revolutionary technology that significantly reduces the shake of a basketball goal
Goal at regulation height is fully stabilized after a dunk or rebound
Maximize practice time by eliminating violent shake that can last up to a minute
Experience the pro-style goal performance found in college and high school arenas
The Science Behind STBLZR Technology
STBLZR Technology features a Tuned Mass Damper, a small resonant system added to the top of the goal that reduces the amplitude of vibration by absorbing kinetic energy. This same technology is used in aircrafts to reduce unwanted movement during flight and in skyscrapers to absorb the motion created during an earthquake. The STBLZR design uses an internal, moving mass that absorbs the motion of the goal and is quickly brought to a rest using a magnetic field. The technology also includes bumper stops to limit the travel of the moving mass and prevents overstressing the springs.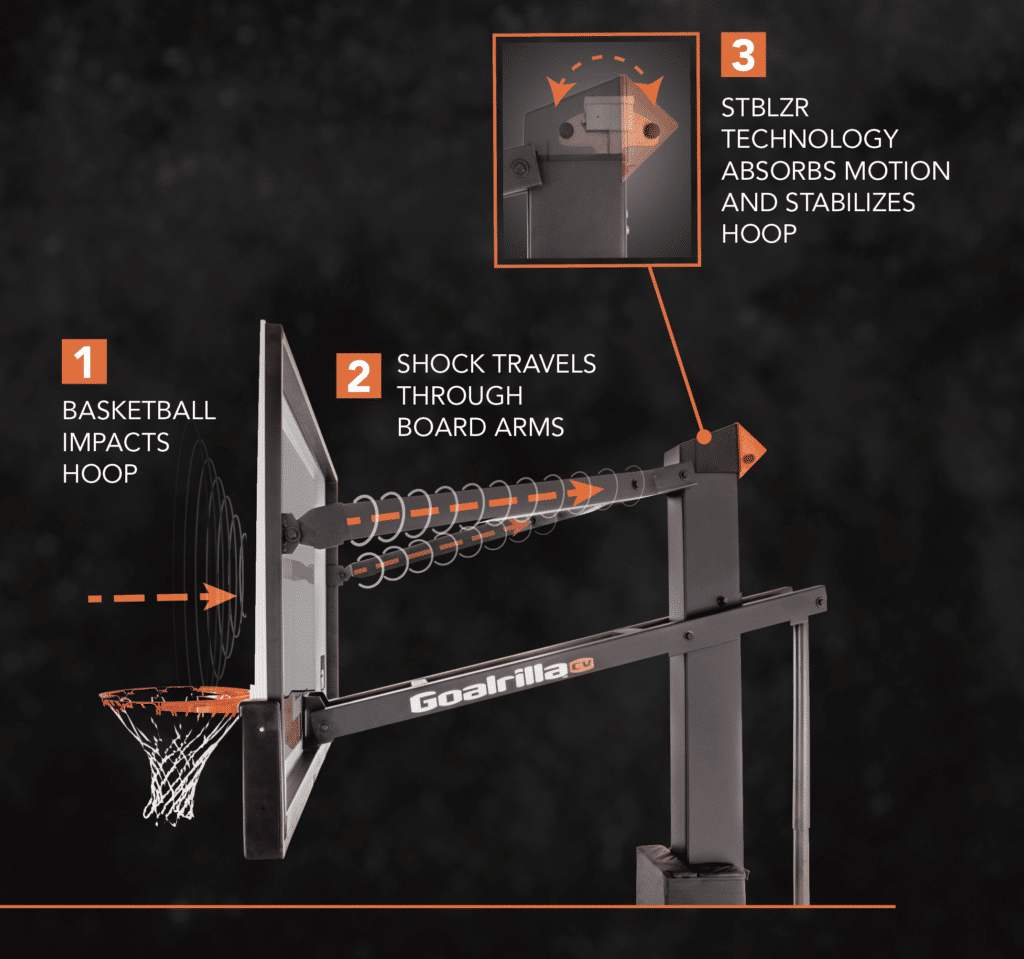 Contact us for a current price sheet BackyardFunZone@gmail.com