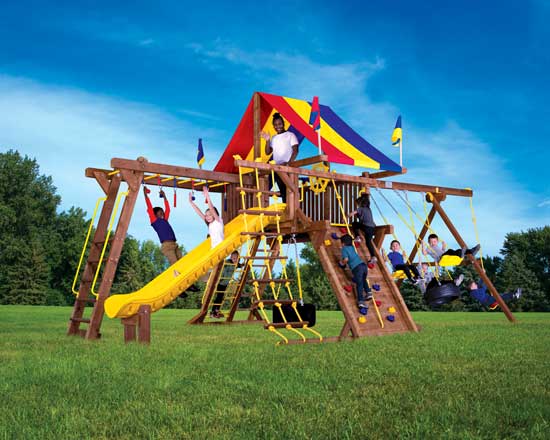 If you want a way to keep your kids entertained while playing outside, installing a playset is a great idea. Age-appropriate playsets keep kids busy for hours and help them burn off excess energy. If you're looking for a swing set that the kids in your family are sure to love, Backyard Fun Zone has a wide variety of options to choose from.
Benefits of Backyard Swing Sets
Outdoor playsets are great tools for helping kids practice their gross motor skills. By climbing on monkey bars and swinging from wooden swings, children develop important coordination skills. Outdoor playtime also gives children time in the sun so they can get plenty of vitamin D and burn off excess energy. Exercising is a great natural method of helping your child focus and control certain conditions such as ADD and ADHD. A playset with a variety of fun elements gives children plenty of engaging stimulation for their minds.
Reasons to Buy Outdoor Swing Sets from Backyard Fun Zone
At Backyard Fun Zone, we understand the importance of giving your kids a safe space to play outdoors. Not only do you want a playset made up of many elements that keep kids engaged both mentally and physically, but you also want one that is sturdy and durable, so you never have to worry about your child's safety when he or she is playing on it. All of the products we carry are made of high-quality materials and designed to keep your kids safe. We strive to make sure all of our playsets meet the following criteria, so you feel confident in our products.
Warranty:

We want you to feel comfortable in how you spend your money, so we only buy products from manufacturers that offer great warranties for their play equipment.
Quality:

Good playsets are more than just wooden structures to climb on. We make sure our swing sets keep both mind and body engaged to foster development in kids.
Safety:

The safety of the kids who use our products is our top priority, so we never want to sell substandard equipment that could malfunction and cause accidents. If you live in Comstock, Michigan, we'll even come out and install the playset of your choosing for you so we know it is done correctly.

Durability:

A playset should be an investment that lasts for many years. All of our play equipment is designed to withstand the elements and grow with your kids.
Children love swing sets, and because backyard playgrounds are great for keeping kids entertained while playing outside, parents love them, too. If you are ready to design a play area for your children, trust Backyard Fun Zone to provide you with high-quality playsets that will keep your kids entertained for many hours. Contact us today to browse our available options and start creating a safe space for your children to play outside.