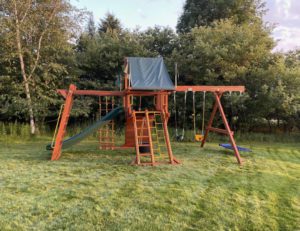 As you read about safe playsets, you'll learn:
How to choose the safest playground

How to install a playground on a safe surface
Kids of all ages love playing on playgrounds. If you're tired of dragging your kids to the park several times a week and arguing with them over when it is time to leave, you may want to consider bringing a playset to your backyard so your children can reap all of the benefits of playing on a playground without the hassle of traveling to one. Because the safety of your kids is your top priority, you want the playground you choose to be safe and secure, and you may be overwhelmed by all of the options that are available. Here are the six components that make up a safe playset.
Installation
Your playhouse and swing set won't be safe for your kids to play on if it isn't installed correctly. It is best to let a professional install the backyard playset so you can be sure it is put together correctly and anchored to the ground properly, so you don't have to worry about it falling apart while your kids are playing on it.
Composition Material
Most playsets are either made of metal or wood. Neither material is better than the other, but they both have various advantages and disadvantages. Metal swing sets require less upkeep and are lighter than their wooden counterparts, but wooden playsets are often more aesthetically pleasing and are better for the environment. Also, wooden playsets are easier to repair or replace parts than a metal set. 
Safety Hazards
Even the safest playsets can become dangerous if they are not well-maintained. You should inspect the playground regularly to ensure all of the bolts are secure and all of the S-hooks holding the belt swings in place are right. If you have a wooden playset you will get surface cracks which are a normal characteristic of wood but if you see one that is wider than a nickel it may be structural. At that point contact the play you purchased from to  see how to process a warranty claim. 
Surface Material Underneath the Playset
The surface you choose to place your playset on plays a significant role in the safety of your playground. There are many materials you can choose to use under your playground, so it is important to choose the one that best meets your specific needs. You should avoid placing the playground on a hard surface such as concrete or asphalt, but any of the following materials make suitable cushioning in case your kids take a tumble off the playground.
Rubber mats

Pea gravel

Grass
Age-Appropriation
There are playsets designed for kids of various ages, but it is important to choose a playground that is age-appropriate for your children. Letting young kids play on a more advanced playset could lead to accidents, so you need to make sure your kids are always closely supervised if they are playing on a structure that is too advanced for them. It is best to choose a playset that is age-appropriate for your kids, even if it means you have to upgrade in a few years. 
Manufacturer's Reputation
When you start researching playsets, you are probably most concerned with the price. You want to choose a playground that meets your needs without blowing your budget, but you also need to think about the reputation of the company selling the playset. Ask for recommendations and look at online reviews to determine if the company has a good reputation.
If you want to install a playset in your backyard to keep your kids entertained, it is important to choose a playground that is safe for your children. The playsets offered by Backyard Fun Zone are designed to be safe and entertaining for kids of all ages. Located in Comstock Park, Michigan & Martin, Michigan, we carry a wide variety of playsets to cater to any preference. Contact us today or browse our inventory online to see the vast array of safe playsets we carry. Call 1-616-785-7383 for more information!
Featured Image: Stuart Monk/Shutterstock